Instruments | Clients | Venues Performed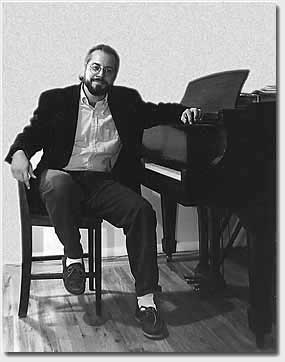 Alan Simon Music Consultants is a professional service that has been providing quality musical groups for a variety of events since 1985. Mr. Simon personally has more than 20 years of experience playing concerts, clubs, private parties and corporate functions. His experience can help guide you in selecting the perfect entertainment for your event. Our organization is happy to work with your party planner, caterer, or hotel representative to help create your special day. Our agency can plan music for corporate events, work with your public relations firm or help select the appropriate music for your wedding, private party or concert. We have provided music for most of the major hotels, country clubs, and restaurants in New York City, Connecticut and Upstate New York.
Cozy & intimate to ballroom & big band
Our primary goal is to customize our musical performance to your needs. All of our bands are tightly knit working units who regularly perform together. Our experienced and enthusiastic band leaders create wonderfully sophisticated music for listening, as well as a wide Variety of exciting dance music ranging from Jazz Standards and Swing, Latin Bossa-Novaand Samba to classic Rock, Motown, Rhythm & Blues, and Contemporary music. If its classical music you're looking for, we can provide that too. We represent several chamber music groups, ranging from flute, violin and cello combinations to guitar, oboe, and flute; or you might want to choose a string quartet. We also have string, woodwind, brass and Baroque groups available to provide programs carefully arranged for any eventor festivity.
For your wedding
We can customize music to please from 30 to 500 guests. The musical diversity that we offer should satisfy any age group. We perform at a level that allows enjoyable conversation or brings up the intensity-depending on what you want. Chamber music for your ceremony is also available. Whatever your need, we provide the music to make your day perfect. Our agency is here to answer any questions you may have, from the first dance to the last.
Check out the free demo
Listen to our free demo-it demonstrates a wide range of musical styles and we're sure you'll find the one that's right for your event. From Swing standards from the Big Band Era, Motown to Classic Rock and Roll, Contemporary to Jazz and Show Tunes-we've got it all. Frequently our saxophonist switches to flute and our bands provide classical chamber music for ceremonies or a laid-back cocktail hour. Let us know-we'll tailor the music to fit you. Download the demo songs in MP3 format. If you prefer a CD mailed to you, click here, or call (860) 824-8274.
Experienced highly talented musicians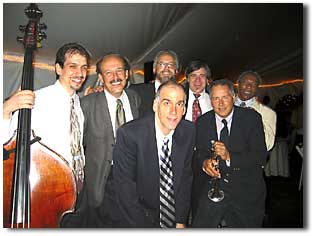 Our musicians have appeared at the JVC and Kool Jazz Festivals, Carnegie Hall, The Blue Note, The Rainbow Room, Radio City Music Hall, Windows on the World and many of our musicians are currently performing in Broadway's top musicals. Our artists have recorded for Atlantic, Concord and Cadence Jazz Records and have performed with some of Americas top musical groups. Our motivated artists have toured extensively in Europe, South America, Japan, and the U.S., making appearances with Lionel Hampton, Dizzy Gillespie, Benny Goodman, Liza MineUi, The Drifters, Harry Belafonte, Glenn Miller Big Band, A Prairie Home Companion, Cab Calloway.the Milwaukee Symphony and New Orleans Symphony Orchestras, Our musicians are stylistically adept at performing the great standards from the Frank Sinatra, Ella Fitzgerald, and Nat King Cole songbooks. A few of the composers they interpret so well include: Gershwin, Rodgers & Hart/Hammerstein, Ellington, Porter, Kem, Berlin, and Arlen.
The following instrumentalists are available in any combination you like-forming a custom ensemble-whether your taste be Classical, Jazz, Show Tunes and Standards, Rock, Motown, or Chamber Music.
PIANO
FLUTE
TENOR SAX
BASS
MALE & FEMALE VOCALISTS
DRUMS
GUITAR

VIOLIN
TRUMPET
OBOE
TROMBONE
STRING QUARTET
CLARINET
STROLLING VIOLIN
HARP
Some clients we've performed for...
...and places we've played.

Michael Douglas
Citibank
Helen Hayes
IBM
Prince Sihanouk of Cambodia
Chase Manhattan Bank.

Carnegie Hall
Julliard Recital Hall
National Arts Club
Burden Mansion
Tiffany & Company
Westbury Hotel
Plaza Hotel
Bryant Park
Harvard Club
The Blue Note
Cami Hall
Le Cirque
University Club
Hotel Inter-Continental
Le Chateau
Water Club
U.N. Building
Drake Swissotel

21 Club
Greenwich Country Club
Estherwood
Stanhope Hotel
Lutece
Metropolitan Museum
Ritz Carlton Hotel
Tarrytown Conference Center
Beekman Towers
Lotos Club
New York Hilton
Cooper Hewitt Museum
Waldorf Astoria
La Belle Epoque
Montauk Club
River Cafe
Tappan Hill
Troutbeck Inn and Conference Center